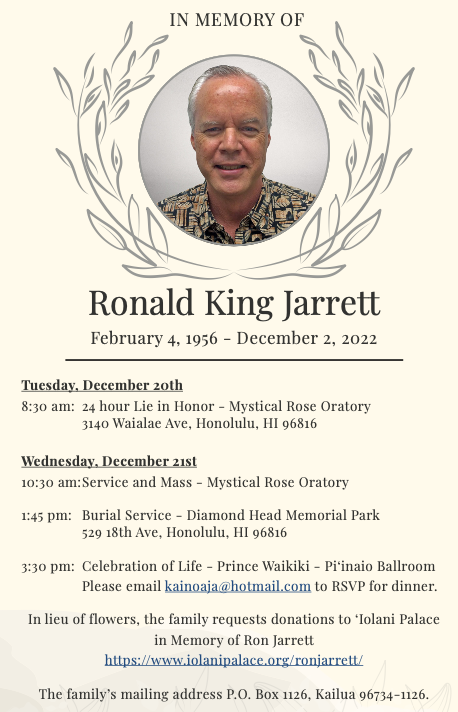 Aloha Members & Friends,
We join the Jarrett ʻOhana in honoring the life and legacy of extraordinary advocate, ʻōiwi leader and dear friend Ron Jarrett.
The community as a whole, and the Native Hawaiian business community in particular, has lost one of its brightest stars to illness.  
True to form, Ron did not publicize his condition and continued to serve our community while facing health challenges, with a positive, get things done, well, attitude.
Ron did not sit on the sidelines with respect to fighting for Native Hawaiian business.  He met relentlessly with elected officials and community leaders to help improve conditions for Native Hawaiians.
As a long time NHCC Board Member, Former Board President and 'Ōʻō Recipient, Ron invested considerable time advocating for Native Hawaiian issues that impacted business.  Ron got involved early on when NHCC was known as the Hawaiian Businessman Association which began in 1959 with its first meeting at the Illikai Ballroom.
He did the same with the NHO community, serving as a former Board Member and Board President.
Ron's candor helped him earn the respect from his peers, many of whom would seek his advice and perspective on Native Hawaiian rights to build the best future possible for our people. He was certainly a mentor for many, offering key insights Kanaka could leverage Federal opportunities for sustainable economic development.  In fact, Ron was able to start his business with a Federal Grant.
His commitment to our people and the time and actions he took to support their success, speaks volumes about Ronʻs character and sense of kuleana.
Ron was cherished and will be deeply missed.  His example as an ʻōiwi leader will serve to inspire generations of Kanaka. He will never be forgotten.
Ke Aloha Nō,
The Board of Directors
Native Hawaiian Chamber of Commerce