NH CoCs and NaHHA Launch Kuhikuhi.com – An Online Directory of Hawaiian-Owned Businesses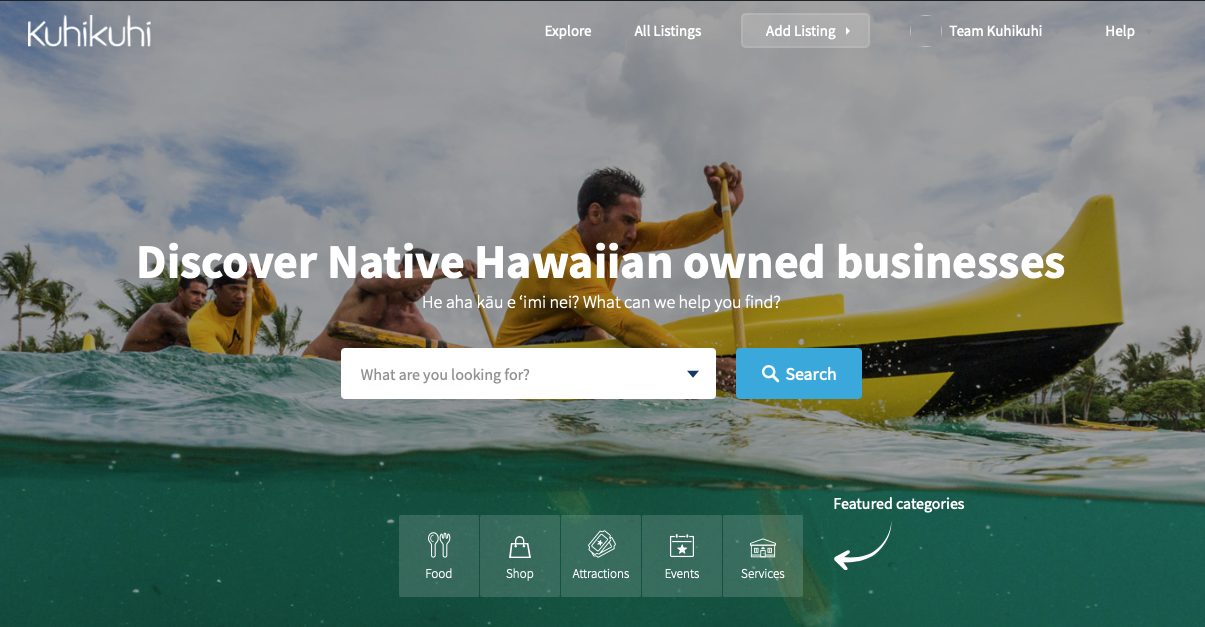 Hawaiʻi's Native Hawaiian Chambers of Commerce and the Native Hawaiian Hospitality Association are proud to announce Kuhikuhi.com, a project to help direct more customers to Native Hawaiian-owned businesses.

"The economic hardships experienced by communities across Hawaiʻi during the pandemic, coupled with the concurrent national calls for racial justice, brought light to the importance of supporting Native-owned small businesses and keeping hard-earned dollars in Hawaiʻi," said Kirstin Kahaloa, President of Hui ʻOihana – Hawaiʻi Island's Native Hawaiian Chamber of Commerce. "What was missing was a platform for consumers to identify these ʻoihana ʻōiwi. From restaurants to boutiques, lei stands to lawyers, lomilomi practitioners to physical therapists, Kuhikuhi.com gives consumers the information they need to choose to support Hawaiian-owned small businesses."

Kuhikuhi.com is a mobile-friendly website, searchable by category, by location, and with ratings all to help potential customers find businesses. Listing a business on the website is free.

Building upon a shared commitment to growing local, Native Hawaiian-owned businesses in Hawaiʻi, Kuhikuhi.com is a collective project of the Native Hawaiian Chambers of Commerce on Hawaiʻi Island, Maui, Oʻahu and Kauaʻi, and the Native Hawaiian Hospitality Association. Funding for the effort was provided by the Hawaiʻi Tourism Authority, Kamehameha Schools, and the Office of Hawaiian Affairs.

"NaHHA has long worked to connect kamaʻāina businesses with the visitor industry as a way to capture more visitor dollars and keep them in Hawaiʻi," said Mālia Sanders, Executive Director of NaHHA. "When we realized the opportunity to work together with the Native Hawaiian Chambers of Commerce to build an online directory that could keep dollars circulating in Hawaiʻi's economy while supporting Native Hawaiian-owned businesses, we knew this was a key resource to uplift our communities. We encourage all Native Hawaiian-owned businesses to sign up!"

Construction of the website was through a collaboration with Movers & Shakas, a program that recruited professionals to work remotely in Hawaiʻi for a time during the pandemic, in return for volunteer service with a local non-profit organization. NaHHA was paired with Danté Moore, a tech entrepreneur and design consultant in the financial sector from New Jersey. During his time in Hawaiʻi, he and his ʻohana stayed in Mākaha, Oʻahu.

"As a black entrepreneur, I'll go the extra mile to support minority-owned businesses. Platforms like these are so important as they reveal opportunities to connect, collaborate and problem solve on a broader scale," Moore said. "While working alongside the Kuhikuhi team, I learned to surf from a Hawaiian instructor, ate at several ʻono Hawaiian-owned restaurants, and took gifts from Hawaiian-owned shops home. Now with the launch of Kuhikuhi.com, everyone can find those authentic experiences and support Hawaiʻi's native economy."

Recent census numbers show us that there are over 10,000 Native Hawaiian entrepreneurs that make up about 11% of Hawaiʻi's self-employed workers, according to a DBEDT report published in January – and those numbers do not account for entrepreneurs with other full-time employment. The data also shows Native Hawaiian entrepreneurs tend to be younger than other entrepreneurs in Hawaiʻi.

"Businesses across Hawaiʻi struggled during the pandemic," said John Kaʻohelauliʻi, owner of Sole Mates in Kapaʻa, Kauaʻi and HawaiianCheckers.com. "As people begin to visit again, and even as our kamaʻāina start shopping again, resources like Kuhikuhi.com are important to help people find our businesses." Kaʻohelauliʻi is also the president of the Kauaʻi Native Hawaiian Chamber of Commerce.