Since 1977, NHCC has awarded the ʻŌʻō Award to Native Hawaiians that have made significant contributions to the advancement of the Native Hawaiian community. Since it was first awarded, the ʻŌʻō Award has become one of the most prestigious and coveted awards specifically for Native Hawaiians, and has become a symbol of inspiration for young Native Hawaiians.  The `Ō`ō itself is made from precious hardwoods firmly rooted in the `āina. Today, the tool is used as NHCC's symbol representing each award recipient's keen sense of firmly rooted values, business acumen, skill, and dedication to service – key ingredients for sustaining success in modern Hawai'i, while maintaining ancient traditions and values.
Historically, the ʻŌʻō Award has been presented to award recipients during an in-person gala which includes an elegant dinner and program designed specifically to highlight the achievements and service of our Award Recipients.  Due to COVID-19, the 2020 ʻŌʻō Awards Gala was held virtually in 2020 and 2021.  We look forward to seeing you in person at the ʻŌʻō Awards this year!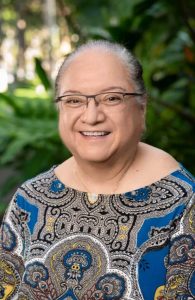 Dr. Naleen Andrade
Naleen Naupaka Andrade, MD is the Executive Vice President of Native Hawaiian Health and Chief Diversity, Equity, Inclusion And Social Justice (DEIJ) Officer at The Queen's Health System (QHS). Dr. Andrade leads Queen's transformative work within its Native Hawaiian Health and DEIJ programs, and she will spearhead organization-wide implementation of Queen's initiatives in these key areas. Dr. Andrade's role includes working in collaboration with other health care and community-based organizations to improve the health and well-being of Native Hawaiians and all the people of Hawai'i.
Marlene Sai
Marlene Sai, an actress, vocalist and music executive, is popularly known as a grand dame of Hawaiian music, whose signature songs "Kainoa" and "Waikīkī," and portrayal of Lili'uokalani in the PBS documentary "Betrayal" won her fame and many awards. What many may not know is that Marlene also worked in administration at Kamehameha Schools and built its alumni department, while continuing to perform select "gigs."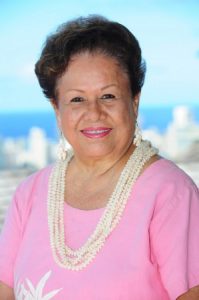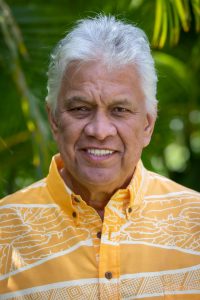 John De Fries
During his tenure as the head of the Hawaiʻi Tourism Authority, John De Fries led the state's pivot toward regenerative tourism, which seeks to balance the economics of tourism with the wellbeing of our communities and natural resources. De Fries took the helm of the agency in September 2020 – six months into the global pandemic, a prime opportunity for the reinvention of Hawaiʻi's largest industry around the concept of mālama. Born in Waikīkī before it became the economic center of Hawaiʻi tourism, De Fries was raised by family elders steeped in Hawaiian culture. He has five decades of professional experience in tourism and resort development.